Home Additions
With more activity going on inside your home than ever, you may be considering finishing your basement or adding an addition.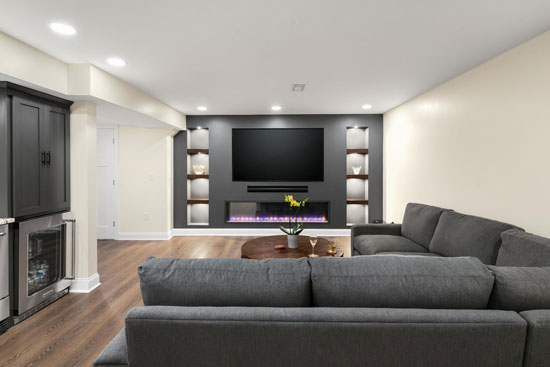 You need a home office, a home gym, a larger kitchen… the reasons go on. We understand.
Building an addition onto your home is an emotional and financial decision – one that should be viewed for the long term.
Emotionally, do it for the love of your family, neighborhood and the home you've built. Financially, it's going to cost a good amount of money, and return about 50% of the investment. There are cases where we have seen it recoup more, but the National Association of the Remodeling Industry, a home addition is the type of project that needs to be enjoyed by the homeowner, not done for resale value alone.
The guarantee? 1) you will have more space 2) it will be personalized to your style and needs. Homeowners build additions because it is the right thing for their lifestyle.
After more than 25 years in remodeling and home building, there are 3 reasons we see homeowners happy investing in an addition.
1. You have no intention of moving.
There is a reason we've all heard the phrase, "location, location, location." If you love your location and have no desire to leave, then you should certainly make your home everything you've dreamed!
This is your forever home. You're committed to staying another 15-20 years or even more. Maybe your young children are in the school system, you know you want to retire here, or just love the neighborhood or your piece of land.
Life is too short. Don't waste time being annoyed with a lack of space, storage, convenience or beauty. If you love where you are, let's make sure you love what you have.
2. There are more people living in your home!
Whether it is your first child, your last, unexpected twins, a parent or relative moving in… we've seen it all!
If your home is filling up (you're running out of bedrooms!) this warrants a home addition. Each member of the family comes with more stuff, and your house will start to feel smaller as the occupants grow!
Decades ago, homes weren't built with master suites and other amenities that today's homes do so it's natural to want to update a home that is 20 or more years old to accommodate how you live today.
Often you need to maintain privacy with separate spaces.
You may also have health and safety considerations and need a more universal design, accessible to all people, regardless of their age or ability.
3. You want to invest now to live at home as long as you possibly can.
When thinking of the long-term costs of an assisted living community, it is less expensive to remodel for the needs that come with aging or illness than going elsewhere.
You want to make the safest choice for your needs. But if it is possible to keep living independently by modifying the home, we are experts at providing the accommodations you need. We have had many homeowners undergo a remodel and enjoy their home for years to come, and studies show staying at home can be beneficial to mental and emotional health.