High-end fashion designers make sure that the patterns match from sleeve to shirt front, between pant legs and panels, because this is what signifies a high-quality garment. Misaligned patterns are distracting at least, and defective at worst, if you're looking for luxury piece.
In the same way, wood cabinetry can be constructed so the grain matches throughout a run of cabinets. A stack of drawers and doors can use the same piece of material, so the woodgrain spans from top to bottom, fitting together like a perfect puzzle.
Or, homeowners can choose to match the grain horizontally so that cabinet doors have a continuous line.
This feature is something to consider especially for homeowners who want to see the rich grain pattern in a wood such as walnut or maple. If you have an eye for detail and prefer a natural way to add beauty and interest to your kitchen remodel, consider grain-matching your cabinetry.
This furniture-quality detail is possible when doing custom cabinetry in your kitchen remodel with Home Sweet Home Remodeling. And, when you're investing in your dream kitchen, the cost of custom cabinetry is often not going to significantly impact the bottom line. If you are investing in a custom kitchen — demolition and renovation, complete with space planning, new surfaces throughout, including new cabinets, our Amish-built cabinets can easily match the grain for little extra cost to the bottom line.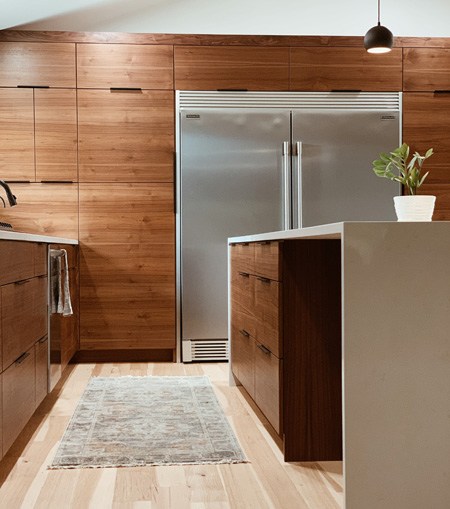 That's the quality of materials and craftsmanship we deliver every time. That's Home Sweet Home Remodeling.
If this is something you're interested in, see how we applied it in a recent kitchen remodel in Wadsworth, Ohio. View gallery.
Set up a free consultation with Home Sweet Home Remodeling to discuss your remodel and determine whether to incorporate grain matching into your design.
We would love to help you create your dream home in the Summit or Medina County, Ohio or nearby areas.  Please contact us today. We remodel in amazing neighborhoods and areas all over northeast Ohio including Copley, Fairlawn, Hudson, Medina, North Canton, Green, Portage Lakes, Bath, Hinckley, Richfield, Peninsula, and more.