Recently we've shown many of our clients how their remodeled kitchen can include a butler's pantry and they are unanimously ecstatic.
An extremely useful and functional space, with storage and the ability to tuck things away, a butler's pantry makes your kitchen design efficient and beautiful.
While most homeowners don't ask for one, at Home Sweet Home Remodeling, our process starts with truly listening to what our clients want and need. We learn about your lifestyle and routines, who uses the space, and what you want to experience. We listen for what you want to feel as well as what you want to see – and often a working pantry can be part of the answer.
So, what is a butler's pantry?
A space off your kitchen and/or dining room, a butler's pantry is more than a regular food storage pantry. It provides ample storage, but also a place for food and drink preparation. This means it is often equipped with countertops, water lines, and dimensions that work for small appliances and recycling receptables. Items are hidden out of sight behind a door, but still give you easy access to everything.
The working pantry provides space to prepare food and clean up without cluttering your main kitchen. We often see families with a real passion for food or beverage who own large mixers, pasta makers, food storage sealers and canners, espresso machines… items that need a permanent, useful home — moving and lifting them is difficult. However, they also don't want them on display to all, taking away from the valuable counter space or the view when entertaining.
A butler's pantry provides usable counterspace and storage. It can be perfect for those who entertain, or have two adults who like to cook and have their own space, who do specialized cooking and more.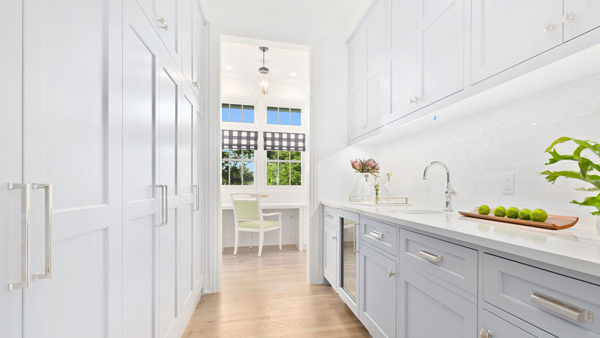 When you remodel your kitchen, you choose beautiful materials and colors to show off and enjoy. But, functionally, appliances like coffee machines, mixers, beadmakers, water filters and more need a home. Clients often explain the line-up of these machines on a counter feels cluttered, and this is what they are trying to avoid with their remodel. This cluttered feeling can make us stressed, anxious and depressed. Research found the levels of the stress hormone cortisol were higher in mothers whose home environment was cluttered. With storage and room to work, a butler's pantry eliminates this feeling.
With Home Sweet Home Remodeling as your designer and contractor, you are working with one entity, one contract, one unified flow of work from initial concept through completion. This means our clients have clear communication, efficiency, and consistent information throughout the project. You tell us your story and we provide the solutions –We listen to homeowners about their needs and make it a reality. Once they realize Home Sweet Home's design process finds space and makes the room function better, they are over the moon.
Many of our custom kitchens have had built-in butler's pantries. It's one of our favorite luxury home features. We would love to help you create your dream home in the Summit or Medina County, Ohio or nearby areas. Please contact us today. We remodel in amazing neighborhoods and areas all over northeast Ohio including Copley, Fairlawn, Hudson, Medina, Bath, Hinkley, Macedonia, West Akron, Richfield, Peninsula, Boston Heights, and more.